HKS GT2 SUPERCHARGER SYSTEM GT2 7040L PRO KIT – AP1 AP2
Japanese yen (¥) - JPY

United States dollar ($) - USD

Euro (€) - EUR

Pound sterling (£) - GBP

Australian dollar ($) - AUD

Singapore dollar ($) - SGD

Malaysian ringgit (RM) - MYR

New Zealand dollar ($) - NZD
Part Number: 12001-AH010
Please select per-product shipping when placing the order. This can be shipped via economy air shipping to most parts of Asia, the US, and Europe. However, the territories cannot be covered with this shipping, we may request an additional shipping charge after the buyer place the order.
Description
Japan's representative sports car S2000. Without spoiling the piston speed of an F1 engine and the E/G characteristics of an ultra-high revving type, the HKS GT supercharger's characteristic that the feeling of power increases according to the E/G rotation of the HKS GT supercharger is used to create the HONDA E/G. We aimed for a supercharger that even our beloved users would be satisfied with.
In addition, since the torque rises smoothly, it is a matching that cannot be found in other superchargers in terms of ease of handling.
For those of you who want to increase the output but don't have a supercharger for HONDA, please enjoy the acceleration feeling reminiscent of a tuned NA engine.
GT SUPERCHARGER Pro KIT
A base kit is necessary for installation, including the GT S/C body, mounting bracket, piping, intercooler, etc. The control system parts are not included in the kit, so please purchase them separately.
(Note) Use a φ37.5 restrictor if fuel reinforcement is not used.
The φ53 restrictor is for USA specification vehicles and is not used for Japanese specification vehicles.
FUEL UPGRADE KIT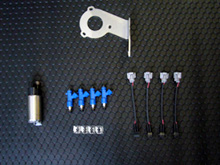 Fuel system enhancement kit. Combined use with the GT S/C Pro KIT enables output of 300PS or more and torque of 30kgf m or more.
Component parts
Large-flow fuel pump, large-capacity injector, exclusive restrictor (φ44)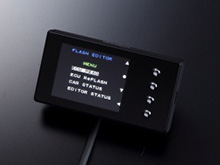 FLASH EDITOR
The flash editor for AP2 is pre-installed with data for the combination of GT Supercharger Pro Kit and Fuel Upgrade Kit. It is recommended because it can be set up quickly and reasonably.
Output comparison
Supercharging pressure characteristics
Precautions when installing the kit
The control device is not included in the kit, so you need to prepare it separately.
In order to bring out the original performance of the GT2 supercharger, the capacity of the genuine injector is insufficient. It is recommended to use together with the Fuel Upgrade Kit, which includes a large capacity injector, a large flow pump, and a dedicated restrictor.
Use a high heat value type plug and high-temperature viscosity No. 40 or higher engine oil.
In order to install the front I/C, some processing is required on the genuine air guide and undercover.
FUEL UPGRADE KIT
car model
model
engine type
Model year
code number
Retail price (tax included)
remarks
S2000
AP2
F22C
05/11-07/9
14007-AH002
¥93,500
For GT S/C KIT
AP1
F20C
99/4-05/10
14007-AH001
¥99,000
For GT S/C KIT
Flash editor/FLASH EDITOR
| | | | | | | |
| --- | --- | --- | --- | --- | --- | --- |
| car model | model | engine type | Model year | code number | Retail price (tax included) | remarks |
| S2000 | AP2 | F22C | 05/11-07/9 | 42015-AH001 | ¥66,000 | For vehicles equipped with a fuel upgrade kit |
The setting of fuel and control system parts
AP1
AP2
GT2 SUPERCHARGER
○
12001-AH010
○
12001-AH010
Fuel upgrade kit (sold separately)
○
14007-AH001
○
14007-AH002
Control system (sold separately)
×
Setup with F-CON iS, etc. is required.
○
FLASH EDITOR 42015-AH001 (Note)
remarks
(Note) If not used with the fuel upgrade kit, it is necessary to set the flash editor to match the current vehicle.
| car model | Classification | model | engine | Model year | supercharger size | code number | remarks |
| --- | --- | --- | --- | --- | --- | --- | --- |
| S2000 | | AP1 | F20C | 99/04-05/10 | GT2-7040 | 12001-AH010 | Cannot be used with S type general purpose oil cooler kit (15002-AK005, 006, 008). Control system parts are not included in the kit, so separate preparation is required. A separate fuel upgrade kit (14007-AH001) is available. *Please contact us when installing to "TYPE V". |
You may also like…
will be available soon

SUS POWER AIR FILTER GXPA16

For Toyota / Lexus