HKS DRY CARBON RACING SUCTION AIR INTAKE SYSTEM
Japanese yen (¥) - JPY

United States dollar ($) - USD

Euro (€) - EUR

Pound sterling (£) - GBP

Australian dollar ($) - AUD

Singapore dollar ($) - SGD

Malaysian ringgit (RM) - MYR

New Zealand dollar ($) - NZD
Product Number: 70028-AT002


Please select per-product shipping when placing the order. This can be shipped via economy air shipping to most parts of Asia, the US, and Europe. However, the territories cannot be covered with this shipping, we may request an additional shipping charge after the buyer places the order.
Description
The most powerful intake system is carefully designed to fit the engine room of a vehicle. HKS Racing Suction pushes air intake system efficiency to the limits.
The Stealth frame is redesigned!
"Hyper Stealth Frame" exceeds the performance of the previous Super Stealth frame. Increasing air intake surface area by 27% improves air intake efficiency.
The bold white HKS logo printed on a black anodized backplate accentuates the engine bay!
The outer edge of the funnel is securely fixed to the aluminum backplate. The use of aluminum significantly improves rigidity and durability. The Alumite process improves the surface of the funnel and also provides a sleek black look.
Real sports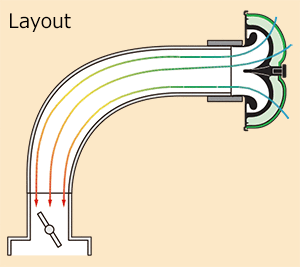 TECHNOLOGY
Vehicle-specific suction pipe design.
Angle and length of pipe enhance the induction efficiency.
It is effective for quick response for NA engines and higher performance for turbocharged engines.
Point
With the stock suction system, induction air hits the corrugated portion of the hose and makes swirl and resistance. The specially designed pipe reduces the corrugated portion and gap inside the pipe to make airflow smoother.
Features Features
■Features
3K Twill weave CFRP Intake Pipe creates a sporty, luxurious look.
Reduction of intake resistance by optimizing the "Super Power Flow" naked air cleaner and suction pipe layout.
An air guide and heat insulator are adapted to promote the introduction of fresh air for stable performance. This air guide is also made of CFRP, and in combination with the suction pipe gives luxury. (This product can be combined with the carbon engine cover (sold separately) for an even fabulous look.
The adapter pipe for the airflow sensor is also color-coordinated with black crystal coating.
The sporty Intake sound of the naked air cleaner enhances driving pleasure.
You may also like…
For Toyota / Lexus

GR YARIS GXPA16

Nissan GT-R R35 VR38DETT 07 / 12-19 / 05 (31025-AN005)